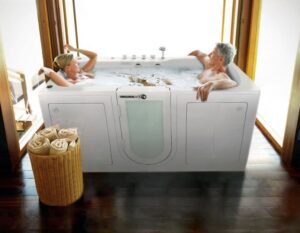 A Walk-In Bathtub can be the perfect addition to your home and allow you or your loved one to bathe easily and in luxury. Walk in tubs provide easy bathing solutions for everyone, as well as those with limited mobility.
Independence Home Remodeling can quickly install a Walk-in-Bathtub in your home.
Call us to get a luxurious bathing experience in your home!
Ella's Bubbles Walk In Tubs
We are a proud dealer for Ella's Bubbles Walk In Tubs. These tubs provide functionality while looking exceptional in your home. Call to find out how we can install a Walk In Tub in your home to provide you with an amazing bathing experience.
Enjoy your independence and a luxury bathing experience with Ella's Bubbles walk in tubs.
The Best Features Available
Walk-In Bathtub Options
Walk-in-Bathtub provide a Luxury bathing experience for everyone in your household. Our walk in tubs can be fitted with the following options.
Air / Water Bubbles – Provides therapeutic relaxation
MicroBubbles – Massage, Hydrate, and Exfoliate your skin
Soaker – Your bath doesn't get cold and stays comfortably warm
Benefits of a Walk-In Bathtub
Walk-In Bathtub can provide more for your home than just being easily accessible. They can also provide many more benefits as listed below.
Easy Entry – Side door makes your tub easily accessible
Independence & Privacy – Allows you to bathe with your independence and privacy
Slip & Fall Protection – Helps to alleviate slips and falls
Consistent Water Temperature  – Your bath will stay heated while you relax
Relaxation – Relax in a heated jet luxurious bath tub