One thing to consider when completing an accessible bathroom remodeling project, is what type of shower are you looking to install?
Independence Home Remodeling offers a variety of shower products that will work great when it comes to remodeling a bathroom for accessibility. Check them out below.
1. What Type of Shower Do You Need?
Walk In Showers work great when the goal is to provide general easier access into the shower.
They typically feature a 2-4″ Threshold to step over depending on the style of shower.
They can be used with a shower door, and the shower bases can be made in a variety of styles, options, and colors.
Roll In Shower or sometimes referred to as barrier free showers are essential for those in a wheelchair, but also provide a modern clean look in homes as well. They allow the user to roll right into the shower with no barrier.
Special care must be taken by the contractor installing it to ensure that the shower drains properly since there is no threshold to prevent water from pooling.
Roll In Showers can be made with a variety of colors and options as well. They are typically paired with a shower curtain to allow for easy access.
2. What Material Do You Want to Use?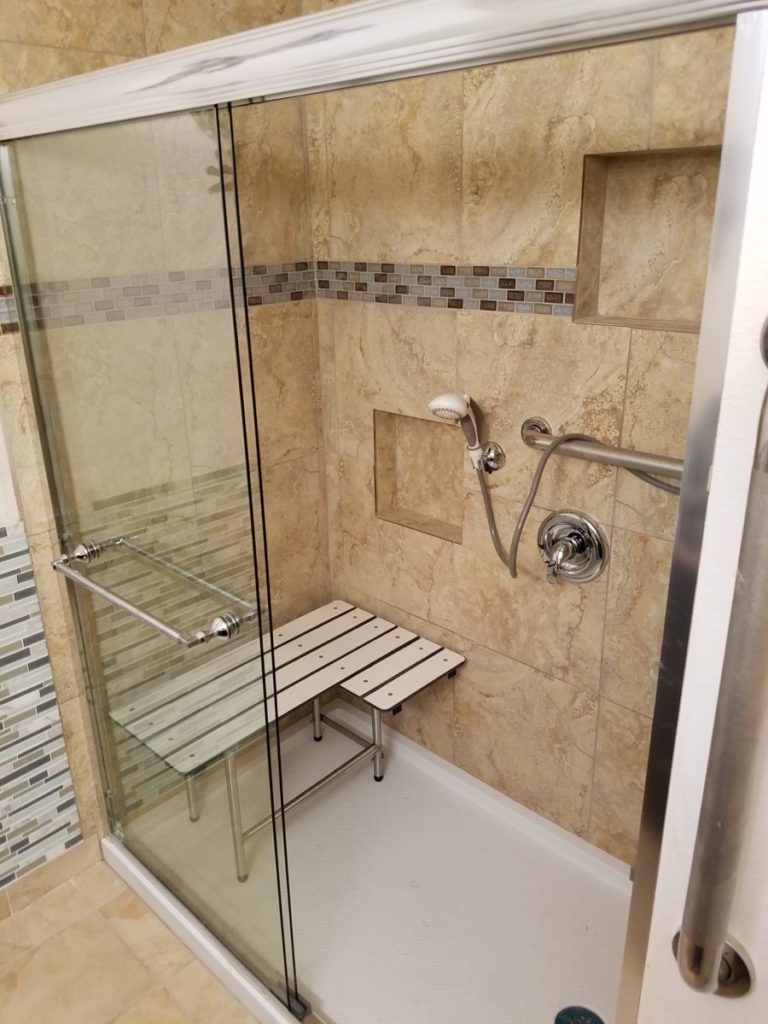 Tile Showers offer the most flexibility and design choices when it comes to accessible bathroom remodeling.
Tile Shower materials can be sourced quickly, and be used to create just about any shower design you can imagine.
Tile Showers are definitely the most popular option for the bathroom remodeling. One thing to consider is that tile showers do require a little bit more maintenance.
Tile Showers will last you a very long time but will need to be resealed every couple of years in order to maintain it's shine and waterproof properties.
We definitely recommend the tile shower option as it gives you the most flexibility in providing a custom shower that will function well for you.
Cultured Marble / Granite Showers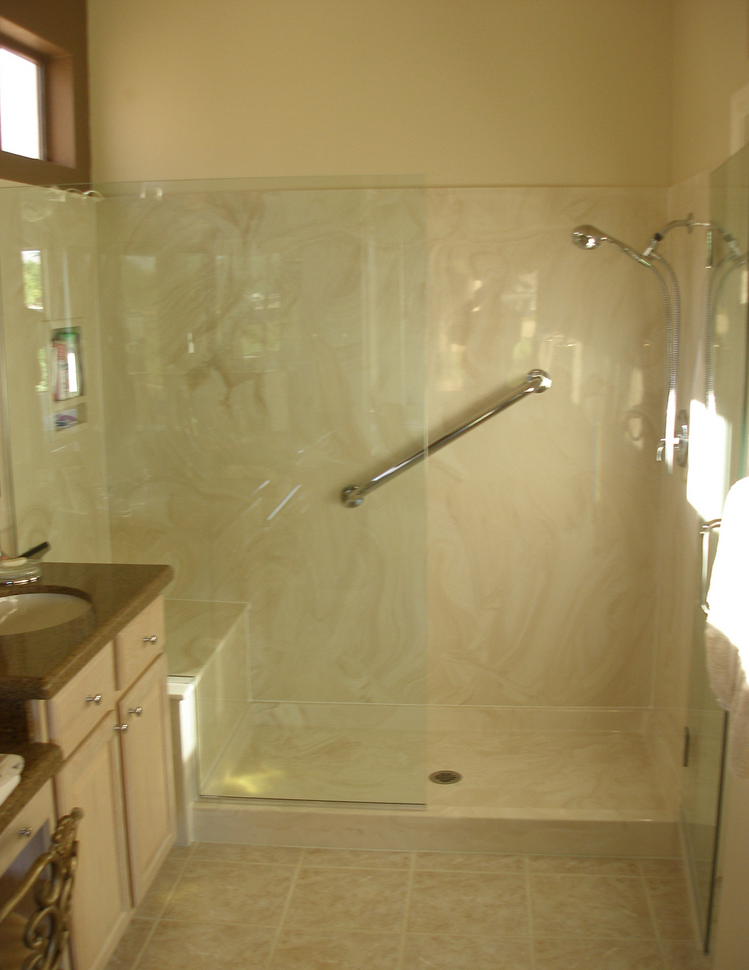 Cultured Marble showers provide a low maintenance, solid smooth surface for your bathroom remodeling project.
Cultured marble is available in a variety of colors with a brilliant shine that will look great in your home.
It is generally easier to clean and maintain but provides fewer options when it comes to color and customization.
We recommend cultured marble used in simple shower designs that don't require a lot of customization.
Explore Cultured Marble Colors
Explore Cultured Granite Colors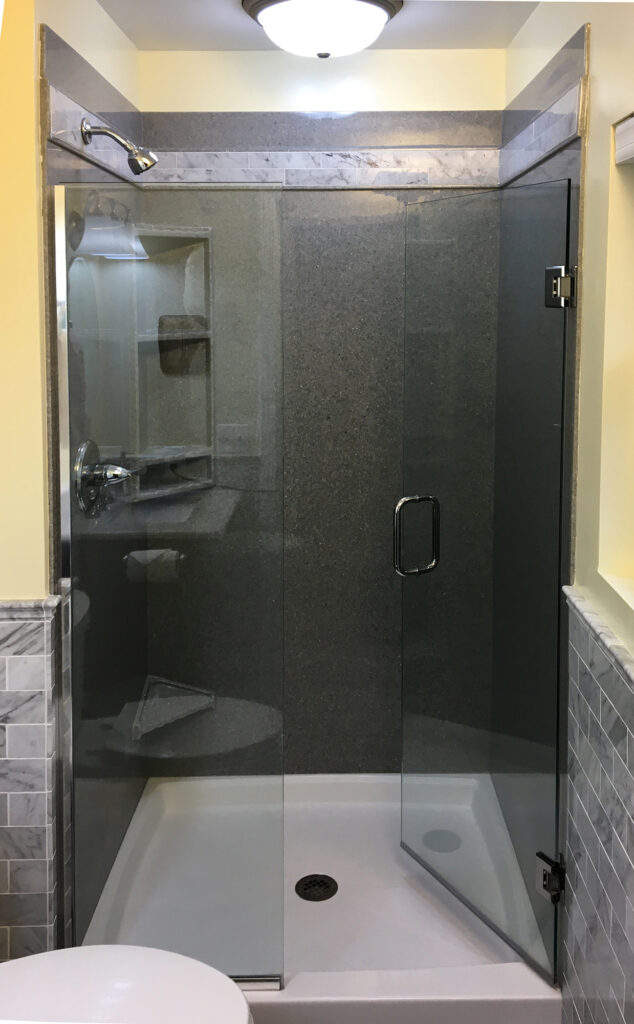 Onyx Collection shower are a great alternative to acrylic showers that many homeowners are used to. They are a solid surface showers, that is also very easy to clean and maintain.
Onyx Showers have a variety of design options and color choices that will look great in your home.
While these showers look great, they do have fewer customization options when it comes to modifying your home for accessibility. Furthermore it typically takes 6-8 weeks for these showers to be manufactured and shipped.
We would recommend Onyx Collection showers to anyone looking for a low maintenance solid surface shower system in their home.
Explore Onyx Collection Colors
Be sure to check out the Onyx Shower Designer Tool.
3. What Type of Fixtures Do You Want?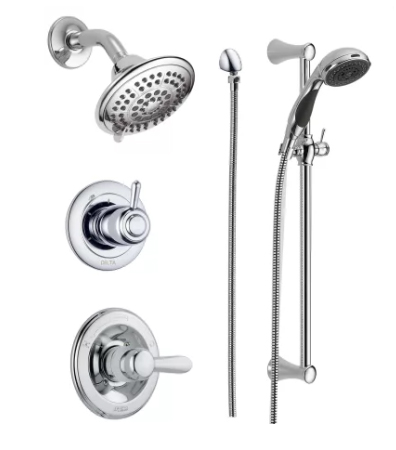 The types of fixtures you want in your shower can be a matter of want and necessity.
We recommend always having a remote shower head in your shower that you can detach and use separately.
Most of the other options will depend entirely on the user's preferences.
We recommend that you explore different shower fixture options before your consultation.
4. Schedule Your Consultation
Once you have an idea of the type of shower options you are looking for, we recommend scheduling a consultation with our design team. 
We can help you to design a shower that will be both accessible, and look great in your home!