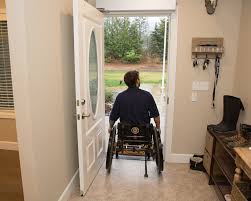 A widened doorway is one of the most important parts of making your home accessible for you or your loved one.
Widening your doors is one thing that's often overlooked until it's too late. You don't want to have a situation where you can't get your loved one inside their home, simply because they can't get through the door.
Another aspect of allowing your loved one to get in and out of their home independently is opening the door. We can install automatic door openers so that you can get in and out easily.
Independence Home Remodeling has extensive experience widening doorways and installing door openers. We can quickly widen doors and install openers in all areas of your home to make sure it is easily accessible.